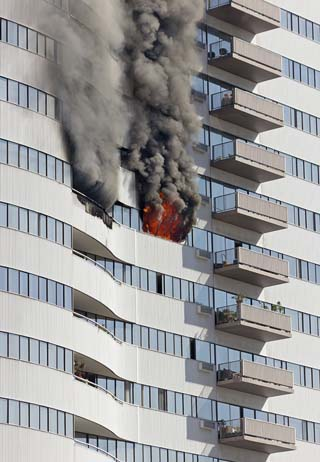 MI Vs FR & FP Fire Cables
When 15 Mins isn't Enough
MICC cable… for when 15 minutes is not enough time to escape!
MICC enhanced fire-resistant cable is the essential fire-rated cable for when 15 minutes of egress time is not enough time to escape
The British Standard for fire evacuation is 2.5 minutes per floor for moving from the accommodation final exit
MICC is strongly recommended for any building more than 7 floors tall
It is a MUST for metros, airports, prisons, hospitals, tunnels, shopping centres, schools
Fire-resistant cables are the correct choice for ALL  life safety and fire fighting critical circuits;

Fire alarms
Smoke alarms
Emergency lighting
Ventilation systems
Fireman's lifts
Emergency pumps
And more…
The Low Smoke Myth
Many polymeric fire-rated cable manufacturers claim the polymers they use for insulation and jackets are low smoke.
They often justify this by claiming compliance to tests like BS EN 61034.
These smoke obscuration tests are dependent on a specific sample weight of cable burned in a specific room/air volume. These results are not predictive end-use simulations.
Smoke generation can be greater on high heating before flame and smoke volume is directly related to the amount of material burnt.
Enquire Now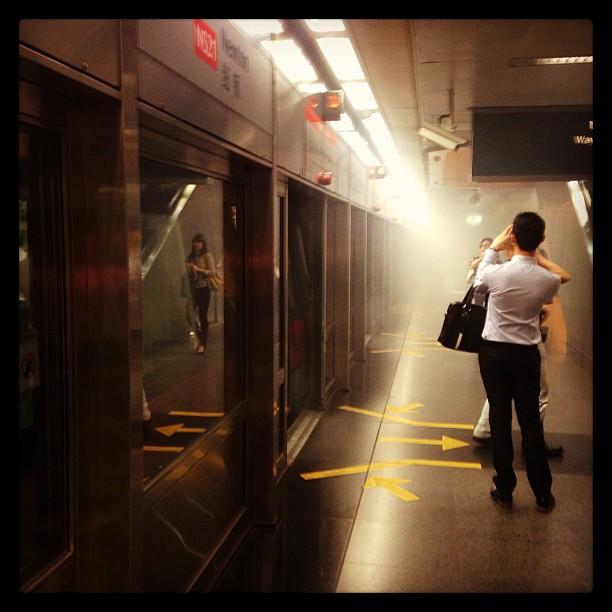 So how can a BS-EN 61034 low smoke fire cable give off so much smoke?
PVC gives off more smoke in flame but PE / XLPE (polyethylene) gives off more smoke on heating without flame.
| | | | |
| --- | --- | --- | --- |
| Material |  Thickness (mm) |  Maximum Specific Optical Density (DM) Non Flaming |  Flaming |
|  Plastics; | | | |
|  UPVC |  3 |  400 |  580 |
|  Polyethylene |  3 |  590 |  83 |
|  FR Polyethylene |  3 |  790 |  780 |
|  Polypropylene |  3 |  550 |  162 |
|  FR Polypropylene |  3 |  820 |  600 |
|  Polystyrene |  3 |  476 |  960 |
|  PMMA |  3 |  63 |  117 |
|  Plasticised PVC |  0.75 |  430 |  650 |
Plasticized UPVC is used to make a general electric cable. In flaming and none flaming mode both feature high smoke outputs, indeed very bad as a fireproof cable…
FP200 & FP600 fire rated cables use polyethylene – In a direct flame yes it shows as low smoke generation factor…. But under overload, short circuit or internal heat for any reason… 590DM is a lot of smoke!
It doesn't take an actual fire to cause an emergency evacuation, smoke with no fire is more common and extremely costly!
Flame Vs Furnace Fire Performance Tests
The truth about BS6387 and flame vs furnace tests!
The duration and the maximum temperature of a fire in a building depend on several factors including the amount and configuration of available combustibles (including all-electric cables, not just fire-resistant and fire-rated cables), ventilation conditions, and properties of the internal enclosures, weather conditions, etc. In common circumstances, the maximum temperature of a fully developed building fire will rarely exceed 1000°C
A flame test like BS6387 (CWZ). Max temperature 860°C (2013 revision)
The flame is very small in comparison to a 'real' fire
Most of the heat is lost and not applied directly to the fireproof cable
Too many fixings are often used to keep the cable in place, this is just not practical and would be very expensive!
The temperature isn't even hot enough for the average fire!
The new BS EN 50200 is worse at only 842°C and only for 2hrs
Only fire-rated cables are tested this way
A furnace test like ISO 843-1. Max temperature 1000°C (2014 revision)
The closest to a real fire simulation, everything starts to melt!
Every other fire-rated component in the building must pass a furnace test
Fireproof doors
Partitions etc
Why Take the Risk?
When it comes to smoke…
Fire Resistant Cables which emit NO smoke will provide significantly improved evacuation speed and aid in saving more lives! About temperature rise and Oxygen depletion…
Fire Cables with NO calorific value which have a ZERO heat of combustion per Kg will eat NO oxygen and generate NO heat will aid in saving more lives! Concerning toxic and irritant gasses
Fire Rated Cables with NO organic content, NO calorific values and Halogen Free will generate NO toxic or irritant gasses at all including Carbon Monoxide WILL aid in saving more lives!
(Statistically, CO is responsible for >90% of toxicity deaths in fires) So what do we do now?
Soft skin fire-resistant cables are not bad cables…
They just don't give the performance they claim to. We need to review the application and understand the limits of the current standards, this will allow the right fire performance cable product to be specified for the right application!
Enquire Now
Fire Rated Cables in Conduit
Mineral Insulated Cable fire cable, bare MI Cable is heat resistant of course, does not need to be installed in a conduit as the copper sheath is already a proven solution to provide up to 3 hour escape time in 'Real World' fire conditions.
The Problem with Conduits
However, installing power cables inside galvanized steel conduit is a very common way to provide mechanical protection for circuits or parts of circuits, but what is not commonly known is that Fire Rated cables should not be run inside galvanized steel conduits.
The problem was first identified by UL (Underwriters Laboratories) in 2012 and subsequently UL removed all approvals for flexible fire-rated cables installed in galvanized steel conduit in the USA and ULC did likewise in Canada.
The reason UL removed the listings can be explained as follows:
"UL received information that the zinc in the galvanised conduit can affect the cables' fire rating. The concern regarding the performance of these products is that the presence of zinc (galvanization) can compromise the cable circuit integrity at high temperatures because of the reaction of the zinc with the copper conductor which at high temperatures in fires will form brass. This effect was validated by Underwriters Laboratories and as a result of this validation, UL and ULC revised the guide information and individual certifications to exclude the use of zinc (galvanised) components with Fire Resistant cables.
During further research on a wide array of products, including conduits without zinc interior coating, it was found that Fire Resistant cables were also not able to consistently achieve the required 2-hour fire-resistive rating."
In the UK installing Fire Rated cables in steel conduits is not yet excluded by regulation but manufacturers of Fire Rated cables sold in the UK are required to test and certify them to respective British Standards. Currently, in the UK, none of the BSI test standards actually require the fire-rated cables to be tested in the mounting configurations they are normally installed.
Are you getting the level of protection you need?
So how does FP / FR Flame Retardant Cables Compare Side by Side with Mineral Insulated Fire Proof Cable?
| | | | |
| --- | --- | --- | --- |
| Feature | LSF FP / FR Cable | Copper MICC Cable | Alloy 825 MICC Cable |
| Upto 15min egress time | Yes | Yes | Yes |
| Over 15min egress time | No | Yes | Yes |
| 250°C Operating temperature | No | Yes | Yes |
| 650°C Operating temperature | No | No | Yes |
| Exposure to 1040°C | No | Yes | Yes |
| Exposure to 1350°C | No | No | Yes |
| BS6387 CWZ | Yes | Yes | Yes |
| BS6387 CWZ Enhanced | No | Yes | Yes |
| BS8491 (Furnace test) | No | Yes | Yes |
| Flame Retardant | Yes | Yes | Yes |
| Seamless tube | N/A | Yes | Yes |
| Waterproof, submersible | No | Yes | Yes |
| No self-ignition | No | Yes | Yes |
| Mechanical shock & pressure resistant | No | Yes | Yes |
| Zero toxic emissions, smoke, flame & gas | No | Yes | Yes |
| Self-monitoring | No | Yes | Yes |
| Non-aging, corrosion resistant | No | Yes | Yes |
| Suitable for confined space/tunnel | No | Yes | Yes |
| 100% recyclable | No | Yes | Yes |
| No conduit required | No | Yes | Yes |
| High overload resistance | No | Yes | Yes |
| Zero smoke on overload | No | Yes | Yes |
| Gas, Bio / Chemical proof | No | Yes | Yes |
| Rodent proof | No | Yes | Yes |
Please contact us to find out more.