Tip Clearance for Industrial and Commercial Turbines
TRM can provide all aspects of Blade Tip Clearance Measurements for intermittent targets, such as turbine blade tip clearance, tip clearance in gas turbines, rotor tip clearance, compressor blades and impellors in Micro-Turbines.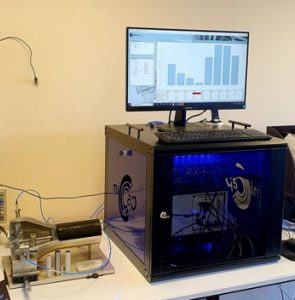 Our miCap system consists of:
Probes:
Fully Triaxial (Cable and Probe)
Each rugged sensor is individually designed to suit the specific application application
Proven operating up to 1400°C, higher temperatures in development
We manufacture cable & probes so can optimise the design of both to suit each application
CFD analysis used to optimise the cooling design (see below):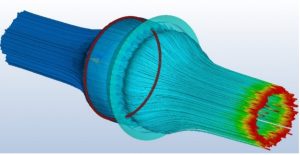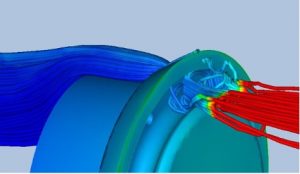 Electronics:
Up to 25m cable length available due to advanced electronics
Industry high bandwidth
Industry low noise
Data Acquisition:
Up to 100MHz simultaneous sampling
Can be scaled with upgrade cards – 1 DAQ can host 4 Electronics modules (16 channels)
Auto-tune available for simple system setup
Software:
Software & GUI designed and maintained by a leading industrial control software programmer
Capable of 'simple' monitoring & traffic light system with alarms
Upgrades available allowing full vibration analysis report generation
Unique advance A.I. Artificial Neural Network Module can display real-time blade vibration mode shapes in an easy-to-diagnose GUI
Simple data export to .csv file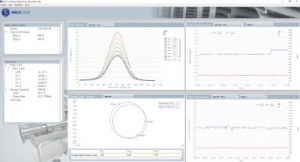 Design & Development:
TRM can offer remote and on-site global support from our experienced engineers. It is available from the first stages of enquiry, designing the sensor head type, performing blade analysis, and determining sensor numbers and locations, in order to select the most suitable product for the customer-specific application. Our objective is to supply a product that is capable of performing as required to meet the customer's needs.
We are developing the use of Artificial Neural Networks (ANN) to classify turbomachinery blade mode shapes, outputting a live image of the blade into our software.
Installation:
Site installation support and training is available as standard.
After-Sales Support:
Our support continues post-installation, this includes data analysis assistance and ongoing general system-wide support. Our worldwide offices can offer local support wherever the installation is situated across the globe.
TRM can provide a suitable quotation for the price and delivery of an industry proven (reports available) high and low-temperature Blade Tip Clearance Measurement system.
We are happy to help with anything from single probes up to a multi-channel measurement system.
Please contact us with your requirements and one of our team will provide a quotation
Portable Demonstration Rig:
Our demonstration rig is available for global visits, to show our probes, electronics, DAQ and software in action.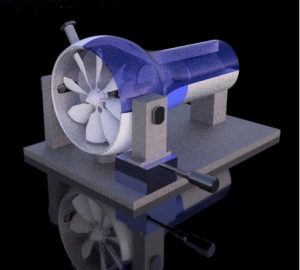 We have the facilities in place to host live demonstrations online, click here to arrange a Teams/Zoom live demo!