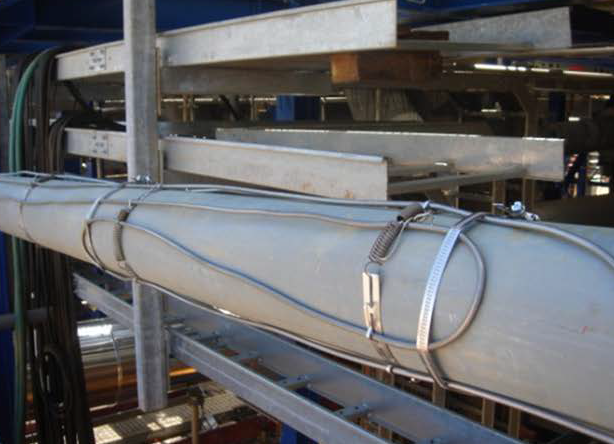 Trace Heating Introduction
TRM Are True Heat Trace Specialists
Here our heat trace specialists will explain how an effective electric heat trace is a system used to compensate for heat losses, using an electrical heating element, which is placed in physical contact with the surface of pipelines, tanks, vessels, equipment etc. It can also be fitted inside the pipe or vessel with suitable accessories and glanding.
In this way you can keep your manufacturing process alive and unfrozen by maintaining or raising temperatures.
TRM Trace Heating EPC Capabilities
TRM are industrial heat trace experts, offering the Unique 'Turn Key' Solution of: Design > Manufacture > Install > Control
Through our 'Turn Key' solution, we believe we can offer the most cost effective solution on the market with the lowest risk of Trace Heating failure.
How We Do This
Design: Good Design Lasts Longer.
As the largest manufacturer of Mineral Insulated cable in the world we offer the full range of MI heating cables and mineral insulated trace heating units: Stainless Steel, Inconel 600, Alloy 825, Cupro-Nickel and Copper sheathed cables. We can also design solutions using Self Regulating, Parallel Constant Wattage and ELK Series Resistance Cables. We also offer units such as power cabling, electric distribution etc.
This means we have the entire range of heating units to choose from so we can use our experience and expertise to design the most efficient system. Furthermore our in-house metallurgist will be able to confirm the most suitable sheath for the desired environment.
Designing a system can be a complex process depending on the size and need of the solution. There are countless ways to shape a system, however you need to be able to trust the designer, and believe that they will be choosing a cable that will meet the needs of the specification in the most economic way to last the lifetime of the project. Please contact us to speak to our engineering team about your requirements.
Common mistakes include
Using the minimum amount of cables but powering them to their limit – reducing their useable lifespan
Using a cable that is too powerful or using too many cables on one area (poor trace ratio) is uneconomical
Using a metal sheath that is unnecessary for the environment and consequently an uneconomical choice
Wrong cable choices on shorter circuits which are more likely to burn out quicker
Using a cable that requires more accessories than necessary such as junction boxes, splice kits etc. ramps up total costs
As we have designed and managed projects across the world and across every possible Trace Heating application, we can evaluate your design specifications and offer a bespoke system which meets your requirement, will survive the manufacturing lifetime and is cost-effective.
Enquire Now
Manufacture
We are a world-leading manufacturer of Mineral Insulated Cables.
As the independent manufacturer of our Trace Heating Systems we offer full traceability and accountability for our heating units, which is vital in ensuring the quality of the composition of the cable is suitable for working conditions. This means we do not 'mark-up' our solution or have any bias in our manufacturing or technology choices.
Furthermore, as we have our own manufacturing plants, we are able to meet local standards and approvals to satisfy any project demand in a swift and cost effective manner.
We have all the relevant approvals proving our reliability and further to this we will test every unit we make through water immersion and a high voltage test to ensure quality. Please contact us to let us know how we can assist with your critical project.
Installation & Training
Bad installation will create unnecessary problems.
Too often bad installation from trainers who lack competence will create needless complications, slowing down or even halting production.
With a wealth of experience installing projects across the world we can offer local assistance and on-site training through our local partners to ensure the system is managed properly and will work for the duration of the project. We can also run annual audit and maintenance services. How can our experts help you?
Enquire Now
Control
Make sure it works. Avoid costly downtime.
Often overlooked, controlling a Trace Heating system properly can offer the total peace of mind that your heating units are working as they should be. There are numerous examples across the world where a failed Trace Heating system could have been salvaged through a properly managed control system, it is essential the correct trace heating products are chosen for each individual environment.
As trace heating suppliers we can provide bespoke control panels, modular control system and a single circuit to multi-circuit control and monitoring. In this way, we can manage a system to ensure the cables are working as they should be and its power can be adjusted as necessary to ensure the cable's lifetime is maximized. Furthermore, in this way substantial savings can be made through energy efficiency.
Through our partnership with PlanRay, we can also provide the most sophisticated monitoring, control and analysis Heat Tracing software ever created: SKYTRACE.
Not only will this monitor and control your Heating Units to maximize the life-span of the cables and create substantial saving in energy efficiency, but it can also pin-point exactly where any circuits face problems so you can address these issues immediately.
Furthermore, SKYTRACE Analytics is a groundbreaking online reporting tool which is designed to pre-empt any potential disaster before it happens through preventative maintenance warning and reporting. Read more here.
Our heat tracing design engineers are vastly experienced, why not try us out?