General
Sunderland manufacturer gains from city's Chinese friendship agreement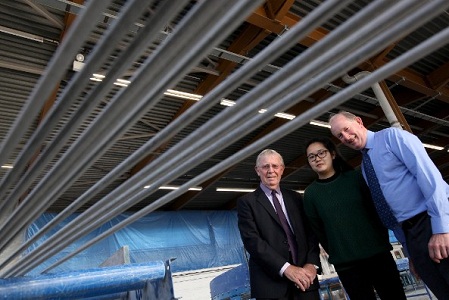 Thermal Resources Management (TRM) Group has setup a Shanghai-based joint venture with its sister company MICC, to build its supply chain in China.
The Chinese operation includes a manufacturing plant in Hefei, where it is seeking local suppliers to reduce the costs of exporting components from the UK. The specialist business manufactures products used in the oil and gas, automotive, aviation and electronics industries.
TRM is now strengthening its links with China after welcoming a student who has joined the company on placement through the Sunderland-Harbin friendship agreement.
Student Zuer Qi has been tasked with researching the suppliers and providing feedback to TRM. The 19-year-old comes from the Chinese city of Harbin and is currently in the UK studying accounting and finance at Manchester University.
TRM director Nick Morton said: "We have only been manufacturing in China in serious quantities since the start of the year and we have 60 to 70 staff there."
"The factory makes mineral insulated cables – specialist heating cables – some of which we will use. But because it's a joint venture, we are giving them technical assistance to address the substantial market in China and elsewhere in Asia."
The plant requires specialist materials and Zuer's knowledge is being put to good use researching potential suppliers in China.
Nick Morton said: "We are already finding out about the technical quality by asking them to send samples which will go through our technical approval process. But Zuer's perspective of how these companies respond and how they are to deal with will be interesting."
The project is giving Zuer an opportunity to work hands-on for TRM and gain an insight into how the growing company operates.
She said: "It's good to get first-hand experience of work while you are an undergraduate and to get to know a company well through a real-life project.
Sunderland and Harbin signed up to a friendship agreement in 2009 to co-operate for the benefit of both cities. Harbin, located in North East China, is the country's tenth largest city.
Councillor Harry Trueman, deputy leader of Sunderland City Council, said: "It's great to see our friendship agreement with Harbin in action and the benefits it's bringing both for TRM and for Zuer. This is the perfect example of how an agreement like this should work in practice."
< Back to News