Trace Heating Products
What is pipe heat tracing?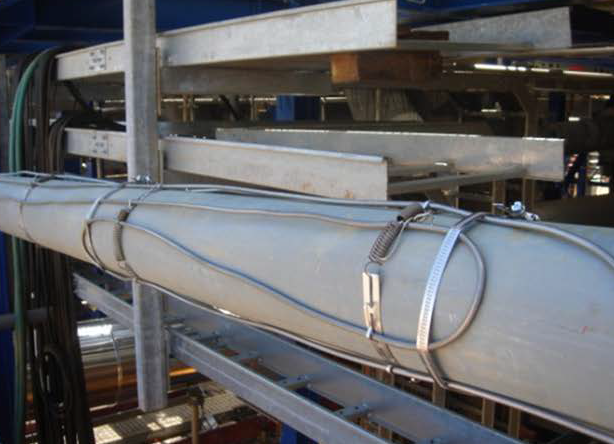 What is pipe heat tracing?
Having a pipe heat trace system is essential for cold weather conditions when the liquid that flows through pipes tend to freeze. If freezing occurs within pipes, it can cause damage to the piping system as a whole. In serious cases, the build-up of pressure in pipes can result in cracks, or the pipes could even blow up, causing serious injuries to anyone near to the system. In this article, we'll be going into detail on what pipe heat tracing is and how it is used.
What is pipe heat tracing?
Pipe heat tracing (also referred to as heat tracing) is often used to make sure fluid, process, or material temperatures within pipes and piping systems are kept above ambient temperatures during static flow conditions as well as offering additional freeze protection in specific applications.
You can design a customised heat trace system for certain applications by choosing the right type of industrial heat trace cable. Also, it's possible to control the level of heat generation through these wires by altering the wattage of the heat trace cable to work with particular requirements for processing fluid.
How is pipe heat tracing used?
One of the most commonly used applications for electric industrial heat trace products is to avoid the freezing of pipes. Using self-regulating electric heat trace alongside an ambient temperature sensing system is the most cost-effective and efficient way to protect your pipes from freezing.
The system design for electric pipe heat tracing applications will be affected by several factors. These include pipe size/diameter, liquid temperature/heat loss, number of thermal heat sinks in the run (flanges/valves), and type of insulation. This will help to determine the right amount of power necessary for the applications so an efficient heat trace system can be designed and supplied.
The controls in these types of systems can be very complicated, as often they are process critical. In order to manage this effectively, various features can be designed into your system such as real-time temperature data, backup operations (in the event of a failure), system failure notifications, wireless connectivity, and more. Specific allowances need to be made for tracing water for safety showers and fire protection systems. Also, electric heating cable systems are typically used as backup systems when steam is used as the main source of freeze protection.
Maintaining temperature
Heat tracing can be used to maintain a steady temperature in pipes and tanks of any size and in a lot of different applications. Pipes that have thermal protection can keep liquid at a regular temperature whilst being moved to a different process through the pipes. As well as this they can lower tank heating expenses due to the incoming material not forming a thermal drag on the process.
Removable and reusable insulation jackets and blankets
Removable insulation provides cover for valves, flanges, and other fittings in industrial buildings. They are an effective, convenient, and cheaper solution to lowering heat loss and making your overall operations more efficient. Standard pipe and valve insulation line products are designed to fit various sizes, and can be used on pretty much any application that needs thermal processing such as:
Valves
Pumps
Filters and regulators
Pressure reducing valves
Strainers
As the cold weather starts closing in, it's important to make sure you've got suitable pipe heat tracing in place to avoid frustrating and expensive problems should your pipes freeze over. Contact TRM today to discuss your heat trace needs. Our specialists are on hand to make sure you get industrial heat trace cables and an overall system that works for your operations.
< Back to News