Cables to Support Oil Well Data Sensors
TRM has designed a reduced diameter flexible cable for downhole temperature measurement applications. This cable has three measuring points at 600 metres, 900 metres and 1200 metres of the cable well. The materials used to ensure that the cable is able to withstand temperatures up to 350°C, supporting a range of oil well data sensors.
The cable tool well drilling is designed with a stainless steel lead-in chain and a copper tungsten plumb weight. This weight is only 8 mm in diameter. Heavy for its size, it gives an initial tension to the first few metres of cable enabling the leading portion to fit easily down the hole with minimal chance of build-up and snagging.
The cable is supplied wound on a heavy-duty plastic moulded drum and the free end is ready connected to a heavy-duty waterproof plug. A matching socket is also supplied.
The three Type K thermocouples are nominally at depths of 600m, 900m and 1200m. However other distances can be specified. The design incorporates a steel tension wire as well as the three thermocouple pairs to support a range of cable well drilling requirements.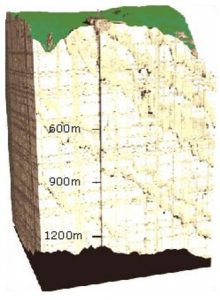 There are two layers of Stainless Steel wires braided together to form an extremely strong formation with a minimum of stretching when fully deployed.
Please contact us with your project requirements.