Reduced Tip MI Thermocouples
Specialist and Reduced Tip MI Thermocouples
TRM can offer thermocouple drawdown units to your specifications. Drawdown units (a.k.a. shoulder reduced thermocouples) are available in a variety of sheath materials, insulation powders, conductor (t/c type) and cold seal configurations down to 0.5mm diameter.
We can also provide a range of mineral insulated thermocouple tip options, such as exposed tip thermocouples and welded tip thermocouples. 
Sheath materials: Inconel (Alloy 600), SS310, SS321, SS316L, Nicrobell
Thermocouple types: K, N – other conductor types are available
Calibration on-site to: IEC584- Tolerance classes 1 & 2, special limits, ½ tolerance
To specify an MI thermocouple drawdown unit please make sure to have the following information in hand: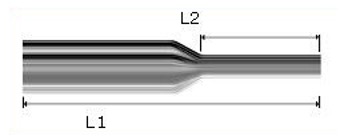 Application
Thermocouple conductor type
Junction type (exposed, insulated or bonded)
Accuracy (class 1, class 2)
Reduced diameter and length (L2)
Start diameter and overall length (L1)
Cold seal arrangement
Flexible lead length/connector style
Please contact us for more information.